Description
Q-See QT35128-16A2 AI-NVR : 10000 Facial Records @ 2160 pic/min : 128 Channel : 12MP 4000×3000 : 640Mbps : 10/100/1000 : 16CH Playback : 16x SATA : H.265 : 1x HDMI-4K-Out : 3x HDMI-1K-Out : VGA-Out : 2x USB2.0 : 1x USB 3.0 : 1.5RU : 24x Alarm-In : 8x Alarm-Out : 4U : Face Detection : Face Recognition : Perimeter People/Car/Bike : People Counting : People Density : Deep Learning

This is the newest generation enterprise grade Artificial Intelligence, Facial Recognition Network Video Recorder from Q-See International. It is feature packed with the latest technology for Video Surveillance perfectly suited for commercial use with 128 channels at 12MP support and a 10000 record, 2160 pictures/min processing capacity facial recognition engine.
Match with Q-See Intelligent Video Analytics, Face Detection, Facial Recognition and Perimeter Alert cameras for the most advanced video surveillance solution possible today.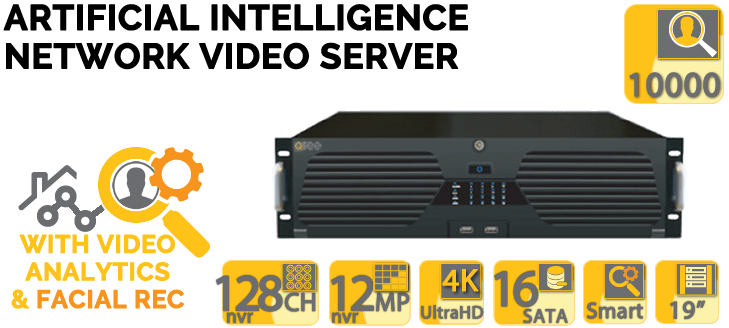 With support for up to 128 12 Megapixel 4K cameras the Q-See QT35128-16A2 is the ideal AI-NVR for deployment into large 65+ camera locations.  As part of the Q-See range this recorder can be controlled by a central Camera Management Server (CMS) for robust, reliable remote video monitoring and be networked to other NVRs and storage systems with ease.
Add Q-See QAPE high power over Ethernet switches for distributed camera deployments. Please see here: https://www.q-see.com.au/product-category/accessories/
Key Features:
Q-See QT35128-16A2
128 Channel 12MP Resolution at 4000×3000 pixels per camera
Support for 12MP / 8MP / 6MP / 5MP / 4MP / 3MP / 2MP / 1.3MP / 1MP / 960P / 960H / D1 / CIF
Support for Intelligent Video Analytics cameras events – object abandoned/missing, region intrusion, tripwire & video tamper
Support for Facial Recognition and AI with 10000 facial database / remote site sync / 2160 pic per min compute capacity / statistics, search & list alarm alert / 32 libraries

128 Channels of AI FR or FD cameras (AI by camera)
4 Channels of AI by standard IP camera (AI by QT35128-16A2)

16x RJ45 PoE ports for direct camera connection via Cat5e or Cat6 Ethernet cabling
Support for both H.264 and the latest H.265 compression CODECs for high quality video at maximum compression
ONVIF 2.3 conformance
4K output for true ultra high def viewing. HDMI-4K x1 (4Kx2K, 1920×1080 & 1280×1024), HDMI-1K x3 (1920×1080 & 1024×768) &  VGA x1 (1920×1080 & 1280×1024)
16 channel simultaneous playback
640Mbps total network access bandwidth processing capacity.  128Mbps Display priority bandwidth
12MP / 8MP / 6MP / 5MP / 4MP / 3MP / 1080P / 960P / 720P @ 25 and 30fps
Dual stream recording with manual, timer, motion and sensor based triggering
Dual stream recording technology for local storage with high definition, remote network transmission and remote surveillance with mobile device
24 channel local alarm input and 8 channel output
2x 10/100/1000 RJ45 Ethernet LAN port
TCP/IP, PPPoE, DHCP, DNS, DDNS, UPnP, NTP, SMTP, HTTP, HTTPs, 802.1x support
Up to 16x SATA 3.5″ drives, RAID0/1/5/6/10
2x USB 2.0 and 1x USB 3.0 port
Remote control
ATX 300W PSU

≤50

W power consumption + hard drive power
437 x 483 x 143 mm (W x D x H)
Smart Video Analytics
The QT878/816/8732/8764/90128/35128 all support the new range of Video Analytic Cameras from Q-See such as theQTN8053D and QTN8086B.